So today was kind of weird.
Oh yeah, to everybody in the US, Happy Let's-Eat-Turkey-And-Forget-We-Screwed-O
ver-The-Natives Day.
Anyhow. I had Figure Drawing class today and I don't know how to feel about it. Actually I do.
Bad: Our teacher was out because WHO GOES TO SCHOOL THE DAY BEFORE THANKSGIVING, WHAT ARE YOU, STUPID OR SOMETHING? So we had an inept sub who was like "Well I'm a sculptor by trade," and we all know that when somebody shrugs and goes "Well it's just that I consider myself X" and X has nothing to do with the class, they're pretty much saying "I am incapable of doing even the basic shit for this subject." (This keeps happening in every class I'm in. People! End of the semester! Get with the program already!)
Yeah, like, sub guy did a demo by drawing a golf ball (in... FIGURE drawing?) from his head and talked a lot but didn't say shit, you KNOW what I mean. So uh.
Also we had The Boring Model. I keep having this stupid model! I think he just works the rounds with the illo and foundations departments too, which means the fashion students who can't draw and might actually dig his boringness NEVER HAVE TO DEAL WITH HIM. He's got a cool face but dear god, he does like the exact same five poses OVER AND OVER. He's practically getting paid to sleep. Ugh.
Good: I realized since we weren't actually learning anything this class, I decided I didn't have to use stupid freaking charcoal, and busted out the brush pen and brush marker and TORE THAT SHIT UP.
And I got an *ace* burrito for lunch.
I think you guys are probably more interested in the arts though huh.
HOW TO BE A MODEL FOR ACADEMY OF ART UNIVERSITY: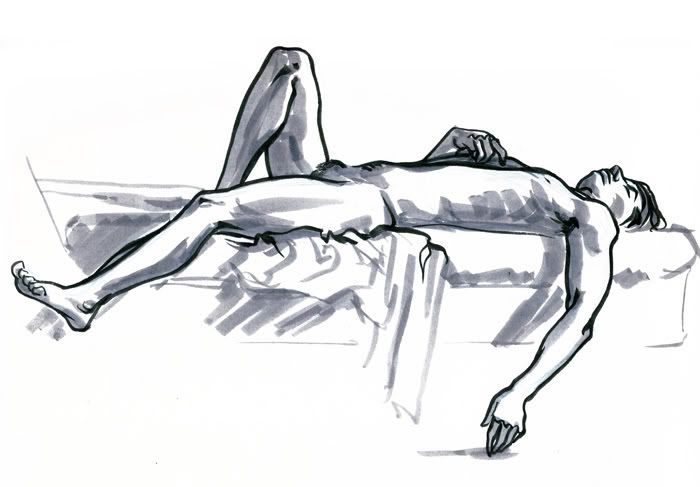 STEP 1: Lie there with one leg bent up and fall asleep for 20 minutes.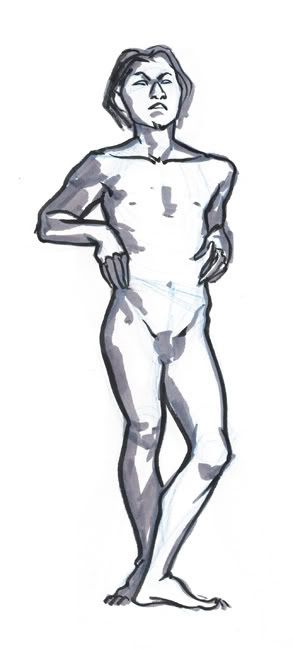 STEP 2: Lean on something and try to remember if you fed your iguana today for 20 minutes.
STEP 3: Walk like an Egyptian for 20 minutes.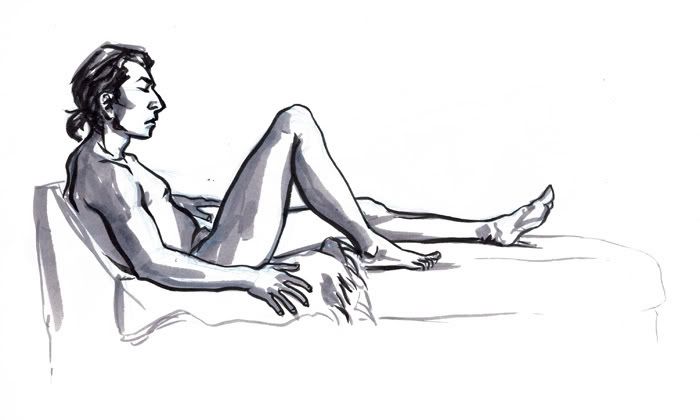 STEP 4: Sit awkwardly with one leg bent up and fall asleep for 20 minutes.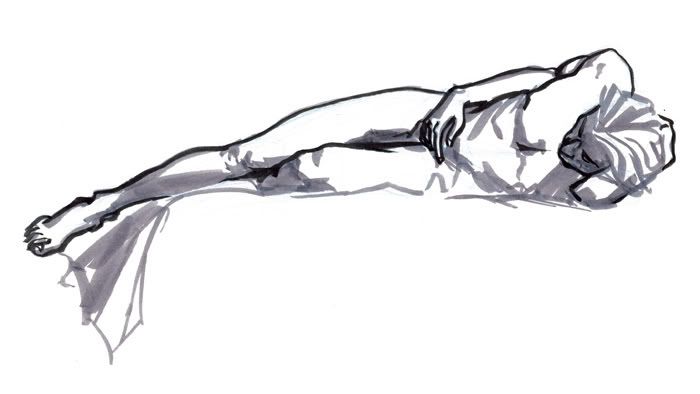 STEP 5: Fall asleep on your side for 20 minutes.
Step 6: ???????
Step 7: PROFIT!
Congratulations, you are now a bona-fide model. Modeling is a hard job, you know.
...
I think somebody is having sex in the room above me.
...
IS IT TOMORROW YET?!