I had another dream with freaking Sharkey Jason Todd! He's like invading my dreams! (at least all the weird ones!) (...Which is all of them!)
It was like X-Men with mutants but nobody had cool powers like lazer beams, it was like stretching-and/or-looking-like-Beak status mutations. And people were all hunting the mutant kiddies down because one dude (early mutant) turned FREAKY with NEEDLE TEETH and lived in the hills for years and ate a hiker. So Jason had no powers but he was helping his ugly mutant friends. And this crazy woman from the government was chasing us with a shotgun and everyone jumped in the water because water stops bullets! And then I woke up.
I think this is one of the few dreams of mine I can directly trace the causes of:
1. My dad was watching Snakes on a Plane on TV, and also
2. some sci-fi thing with people with boils and extra heads in space getting threesome-married, and also
3. I have been reading way too much Young Justice.
Here's what Sharkjay looks like BY THE BY.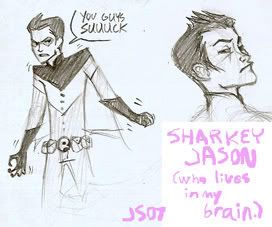 (Don't worry he wasn't in costume in the dream, that would be weird.)
I should make a finished drawing of him!
Also, am I the only one disappointed with Tim Drake's hair right now?
(
Please don't read this, it's all whining. And some dumb sketchings.
Collapse
)
This whole post is me stalling writing a piddly 500 word thingy about multicultural environments for the dorm I'm in. It's the newbie dorm I guess because none of the other dorms have to write this dumb thing. (It's actually just generic student fodder they'll put in a leaflet or something like when my boarding school asked me to define art, and I shouldn't make a big deal. SIGH.)